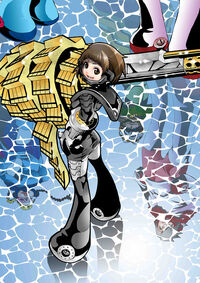 Nobunagun (ノブナガン, Nobunagan?) is an action supernatural manga series by Masato Hisa that began serialization in 2011. An anime adaptation was aired in 2014.
Thanks to technology, there are people in the world known as E-Gene Holder agents who work for the government organization DOGOO. These agents wield weapons infused with the spirits of great historical figures like Gandhi and Newton. Shio Ogura is a high school student visiting Taiwan on school trip where she suddenly has a chance encounter with these mysterious agents.
When she and her classmates are caught in a surprise attack by monsters called "Evolved Invaders," the E-Gene Holder agents appear to fight since the military cannot seem to do any damage to the monsters. When Shio's friend is endangered, the young girl awakens the ability to wield a weapon like the agents — the great Japanese warlord Oda Nobunaga as a giant machine gun.
Anime
Statistics
Name
Nobunagun (

ノブナガン

?

)
Director
Nobuhiro Kondo
Animation
Bridge
Start Date
January 5, 2014
End Date
March 30, 2014
Episodes
13 (List of Episodes)
Music
Opening
Pay Respect to the Dead Man
Ending
Chiisana Hoshi
Links
Official Website
Official
Licensed
Funimation
Streaming
Crunchyroll
Characters
Edit
Animation - Bridge
Original Creator - Masato Hisa
Director - Nobuhiro Kondo
Character Design - Hiromi Matsushita, KAZZ T
Art Director - Maho Takahashi
Music - Yutaka Shinya
Series Composition - Hiroshi Yamaguchi
External Links
Edit